Resume: Shows, Awards & Accomplishments
[ PDF ]
---
Represented By:
Helen's Studio
Come see what the artist has in the works!
Kapaa, Kauai, Hawaii
Open
by appointment.
Aloha-n-Paradise Gallery
9905 Waimea Rd.
Waimea, Kauai, Hawaii 96796
808 338 1522
Open Mon - Fri 7am-5pm, Sat 8am-2pm
Bamboo Gallery at Na Aina Kai Botanical Gardens
4101 Wailapa Rd.
Kilauea, Kauai, Hawaii 96754
808 828 0525
Open Monday 8am-2pm,
Tues - Thurs 8am-5pm, Fri 8am-12noon
www.naainakai.org
---
Arts Organizations:
Kauai Society of Artists
Pastel Artists of Hawaii
Pastel-only society that represents the Hawaiian islands nationally and locally.
Pastel Society of the West Coast
Women Artists of Kauai
Kauai Museum
Kauai's only historical and cultural center that supports island based artists.
Art for Autism
Supports the research and awareness of autism spectrum disorders.
---
Easy Living Jazz
Helen Turner on flute and Jeff Iglesia, guitarist, bring cool jazz to the islands. Helen has been a professional musician as long as she's been an artist! This duet has three CD's and are available for events.
About Helen Turner
I recently told my Mom, who is an oil painter back in New York, that I finally found what I want to do for the rest of my life. I want to paint, and paint and paint some more! I can't deny it, I'm in love with the medium! All those colors just waiting to be picked up and applied and no solvents or brush clean up!
Growing up in East Hampton, New York, my original mediums were painting in oils, which my mother gave me to use, and photography. I loved mixing paint and worked on large canvases of seashell still-lifes and landscapes. I sold a few, but couldnít get into any venues other then guilds and member shows. This was, after all, the home of Pollock, Lichtenstein, and DeKooning, to mention a few, and I had no art training. After high school I attended Queens College in New York City and began traveling with the money I made playing music (another story altogether!). Kauai was a surfing vacation where I fell in love with the tropics and never went home.
My years here on Kauai have been crazy, with marriage and kids and making a living (still playing music), and hurricanes. In 2003, I discovered some NuPastels in an old box and started drawing again. Itís been an amazing ride so far with Pastel Artists of Hawaii giving me the confidence to enter mainland competitions. My paintings are for sale in four galleries here on Kauai where my works are being collected by pastel lovers from the mainland. I also take every opportunity to show my work in other society shows and look for venues to exhibit.
I love to paint landscapes and seascapes! My first goal is to photograph a secluded spot and take it back to my studio to paint. Digital photography has been a blessing to me, since I can print my photo for reference right at home without waiting for developing time at a lab. I also like to do things that challenge me. Itís a personal benchmark, to see if I can do a portrait or a still life in pastel. Iíll try anything: a crowd scene, a see-through green wave, a pelican... the more you paint, the better you get!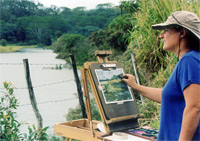 Helen painting
en plein air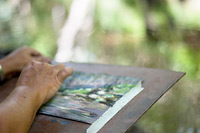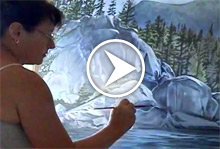 Click to watch Documentary Video
Lately Iíve been obsessed with painting "en plein air" with a limited palette, limited time and light. That is really the way to tune up your way of "seeing" color. Contact me when you come to Kauai and weíll go paint together!
Ultimately itís not about getting awards or making sales that matters to me in art, itís the pure joy of painting! Art is a gift from God, a gift that keeps on giving.
Aloha,
Helen Turner
Kauai, Hawaii